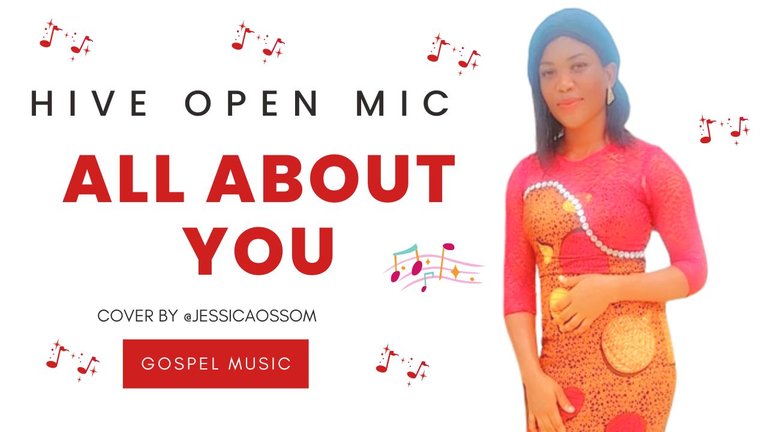 Hello, Hive Open Mic community. This week, I'm glad to be a part of you all.
The first thing I did when I saw this week's theme was look up what it means in English, which is 'You are with me'.
The song 'All about you' by Anita Wilson came to mind. I heard it for the first time around May/June last year. I was captivated by the song when I heard it on a radio station. The upbeat tempo and soulful lyrics immediately drew me in and I was inspired by the message that the song conveyed. I felt like the song was speaking directly to me and I was deeply moved by it.
Due to the fact that it was played on a radio station, I could not replay it, so I downloaded it to my phone.
The song is about trusting God and relying on Him no matter what life throws at you. It is about having faith that God will provide and having the courage to keep going despite the difficulties that come along.
My favorite thing about the song was its lyrics and rhythm since I was struggling through a lot at the time I first heard it. The lyrics comfort me. Downloading the song allowed me to access it whenever I wanted, which was important because the lyrics had such a profound effect on me. I could replay it as much as I wanted and reflect on its meaning. This helped me to process and cope with the difficult emotions that I was feeling.
According to the part that says, 'because of your love, I can face any challenge that comes my way,' I believe this is God assuring me that he is always with me, and because he loves me, I will be able to overcome any obstacle.
My birthday last year was July 21. I created a video for my birthday and used that song as background music. I chose the song because it has a special meaning to me and I wanted to share it with my family and friends.
If anyone in this community is experiencing a difficult time, I hope this song comforts them as it comforted me and makes them happy too.
The instrumentals I used for my video was gotten extracted with the moises.ai.
The header image was edited on canvas and the image is mine.
I will pursue what pleases You, I will follow through
'Cause I realize it's all about You, You, You, You
I will pursue what pleases You, do what You tell me to
'Cause I realize it's all about You, You, You