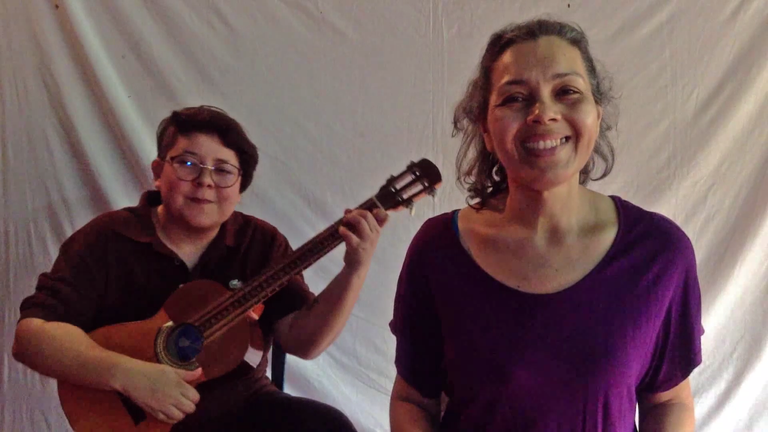 ---
Un saludo amoroso par todos mis amigos de Hive, es una placer para poder participar en esta bella iniciativa de Talent Sound Music: Mes de Marzo (2023) - Mes de la Mujer producto de una gran alianza entre las comunidades Sound Music Womentribe para conmemorar juntas el mes de la mujer en Hive.
Para esta ocasión he traído un tema maravilloso de la cantautora Gloria Martín, titulado "Mujer". Fue publicado en el álbum "Mi riqueza es la alegría" en el año 1974. Mi versión es mucho más rítmica que la original, la he cantado junto a mi querida @aly.squid durante años, acompañadas de muchas mujeres con las que nos reunimos y construimos ideas y sentires juntas.
Como siempre es maravilloso poder formar parte de un espacio que este dedicado a nosotras las mujeres, sobre todo en estos tiempos de cambio, donde el mundo se abre a nuestras exigencias cada vez más profundas y sensibles, pues ya nuestra lucha no se concentra solo en derechos civiles o laborales, ahora se extienden a lo domestico; a nuestros derechos básicos de tener una vida libre de violencia y explotación emocional.
Esta es una canción maravillosa, que como muchas otras veces dedico a todas las mujeres y las invito a seguir defendiendo su derecho a pensar, decir, sentir y ser. Espero les guste mi interpretación, pues la he hecho con mucho cariño. Aprovecho para invitar a @rosana6 @zullyscott @aly.squid
Letra
Mujer, si te han crecido las ideas
de ti van a decir cosas muy feas
que, que no eres buena
que, que si tal cosa
que cuando callas
te ves mucho más hermosa.
Mujer, espiga abierta entre pañales
cadena de eslabones ancestrales
ovario fuerte
di, di lo que vales
la vida empieza
donde todos son iguales.
Mujer, si te han crecido las ideas
de ti van a decir cosas muy feas
cuando no quieras
ser incubadora
dirán no sirven
estas mujeres de ahora.
Mujer, semilla, fruto, flor, camino
pensar es altamente femenino
hay en tu pecho
dos manantiales
fusiles blancos
y no anuncios comerciales.
Angela Jarnes, antes Manuela
mañana es tarde y el tiempo apremia.
Contenido original del autor.
Recursos: Tableta ZTE E10Q
Fotos propias
Traducido con Deepl.com
Todos los derechos reservados || @jetta.amaya// 2023
---
Talent Sound Music - Category: Voice - @jetta.amaya - Woman
A loving greeting for all my friends of Hive, it is a pleasure to participate in this beautiful initiative of Talent Sound Music: Month of March (2023) - Month of Women product of a great alliance between the communities Sound Music Womentribe to commemorate together the month of women in Hive.
For this occasion I have brought a wonderful song by singer-songwriter Gloria Martin, titled "Mujer". It was released on the album "Mi riqueza es la alegría" in the year 1974. My version is much more rhythmic than the original, I have sung it together with my dear @aly.squid for years, accompanied by many women with whom we meet and build ideas and feelings together.
As always it is wonderful to be part of a space that is dedicated to us women, especially in these times of change, where the world is opening to our increasingly deep and sensitive demands, because our struggle is no longer concentrated only in civil or labor rights, now extend to the domestic; to our basic rights to have a life free of violence and emotional exploitation.
This is a wonderful song, which as many other times I dedicate to all women and I invite them to continue defending their right to think, say, feel and be. I hope you like my interpretation, because I have made it with much affection. I would like to take this opportunity to invite @rosana6 @zullyscott @aly.squid.
Lyrics
Woman, if your ideas have grown
they will say very ugly things about you
that, that you're no good
that, that if so and so
that when you keep quiet
you look much more beautiful.
Woman, open spike between diapers
chain of ancestral links
strong ovary
say, say what you are worth
life begins
where all are equal.
Woman, if your ideas have grown
they'll say very ugly things about you
when you don't want
to be an incubator
they will say they are no good
these women of today.
Woman, seed, fruit, flower, path, road
thinking is highly feminine
there are in your breast
two springs
white rifles
and not commercials.
Angela Jarnes, formerly Manuela
tomorrow is late and time is short.
Original content by the author.
Resources: Tablet ZTE E10Q
Own photos
Translated with Deepl.com
All Rights Reserved || @jetta.amaya// 2023
---
▶️ 3Speak