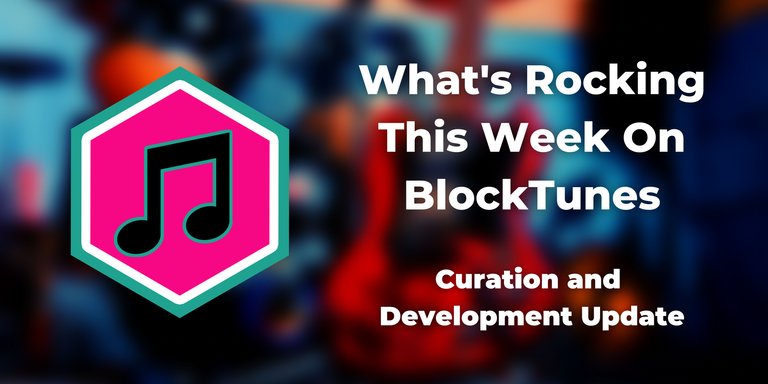 Hello again music lovers, and welcome back to another weekly curation and development update from us at BlockTunes! We are excited to have a big update for you as we have had some cool developments, another worldwide release, and the community is showing up with some great musical content for us to reward and share! Let's get right into it! First up, the latest release from the BlockTunes Release Service.
Latest BlockTunes Release
This week brings another @groove-logic release to the BlockTunes library and our worldwide distribution partners! His goal for 2023 has already begun, and that is to release 1 song a week, every week in 2023! This week is a song that he has been working on off and on for several years, and is finally getting it polished up for release!
The melodic dubstep track, Sweet Dream is available to stream now on the main BlockTunes site, as well as Groove Logic TV on YouTube. Spotify, Apple Music and other sites to come this week! So make sure you are following Groove Logic on your favorite mainstream streaming site!
This song also has available NFTs that give the owner limited reproduction rights/royalty free rights on our $MUSIC NFT Marketplace, and a Special Access NFT on our Polygon-based NFT Marketplace! This NFT includes access to the not only the audio download, but the Hi-res version of the video download, and the broken down audio stem files for remixing in any DAW!
Curated Posts
The following posts were music posts that really stood out above the crowd and we wanted to share them with you! We are coming up with some 'curation standards' that we will use in the future for our reblogging and sharing, so if your posts fall into those standards, you may get a bigger upvote and reblog from our account!
Resonate - Original WAVY TRAP Instrumental @laritheghost
This post from @laritheghost is a slick-sounding trap beat that looks to come in a beat pack that you can purchase, and purchase the rights to use in your productions! We are huge fans of electronic music and like to see producers sharing their tunes on Hive and BlockTunes!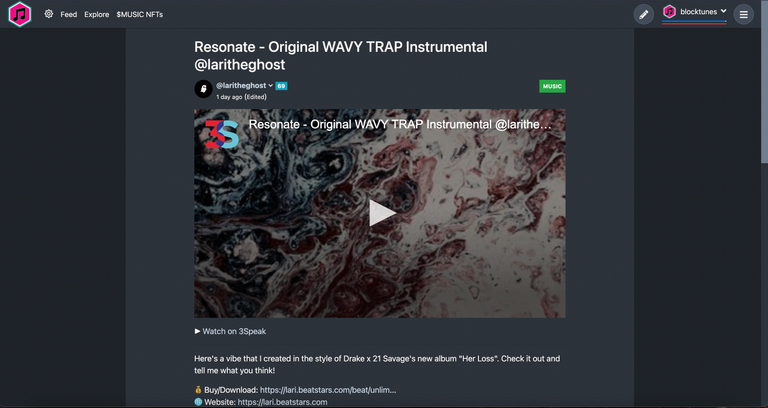 Stick Up Music Song Of The Week - Letters by Phil Saatchi & Stick Up Boys
The @stickupboys and @stickupofficial1 are back with another awesome release! For this song, they partnered up with Phil Saatchi to come up with this great vocal track that you have to hear!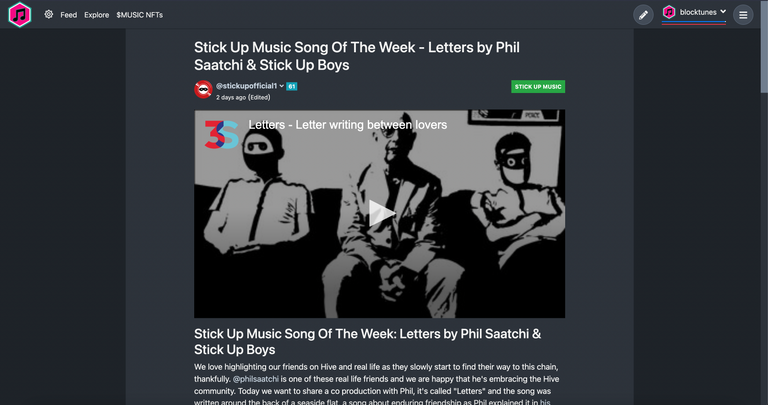 See post on BlockTunes
Made A DnB Track About DnB 😂
We love when artists share their work while it is in progress. That brings a great opportunity to have a community of music lovers critique your work and give you some feedback. If you haven't heard of @nickyhavey, you should give him a follow! We are huge fans of drum and bass, and his sound is that perfect blend of melodic goodness that makes you just feel good!
Check out his latest work in progress, Smile on BlockTunes!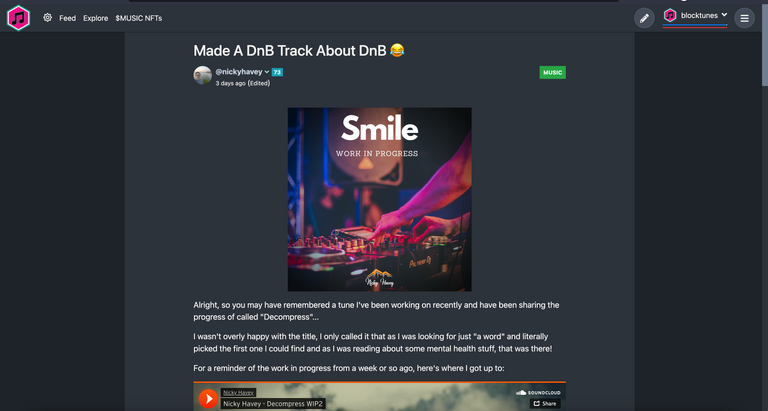 See post on BlockTunes
Live Abstract 21 by Jolly Joker [TECHNO DJ MIX]
Keeping on with the electronic theme that we have going this week, we have @nupulse bringing us a techno dj mix that has a lot of energy! Actually used it in the personal workout one day this week! If you love some good old school style techno, then check out @nupulse's latest mix shared on BlockTunes on Hive!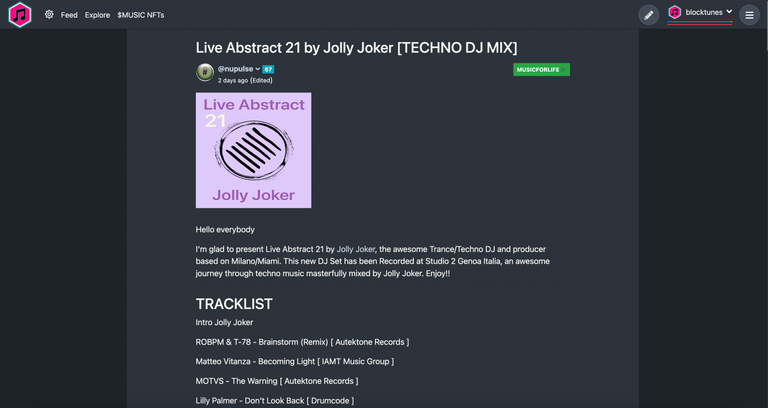 See post on BlockTunes
Hive Openmic Week #141| Let it go by Idina Menzel| Cover by Mary Bello
Last but certainly not least is @marybello bringing us some holiday cheer with her cover of 'Let It Go' from the movie Frozen. It's a bit of a change-up from the electronic music, but with Christmas coming this weekend, why not? Her voice in this cover is so close to the original that we had to watch it a few times to make sure it wasn't lip-syncing. She has an amazing voice, and we wanted to share some winter and holiday cheer!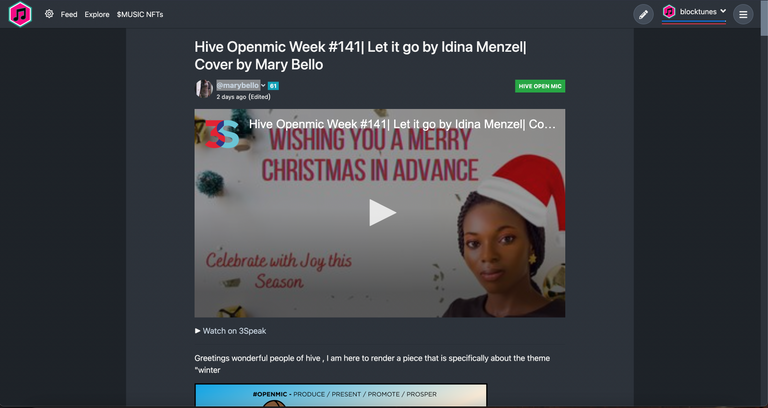 See post on BlockTunes
Development Update
This week's big development update comes in the form of direct payment and download buttons on songs released using the BlockTunes release service. This is done using the @hivepay-io platform from @jongolson and @blainjones of the CTP group! This will allow fans to purchase the download and the payment of Hive, HBD, or MUSIC tokens will directly be split 95% to the artist and 5% to the @blocktunesdao. It's suggested to save the download link for future use, as well as we will send a link to the file via encrypted memo in a Hive transaction so you will have it forever!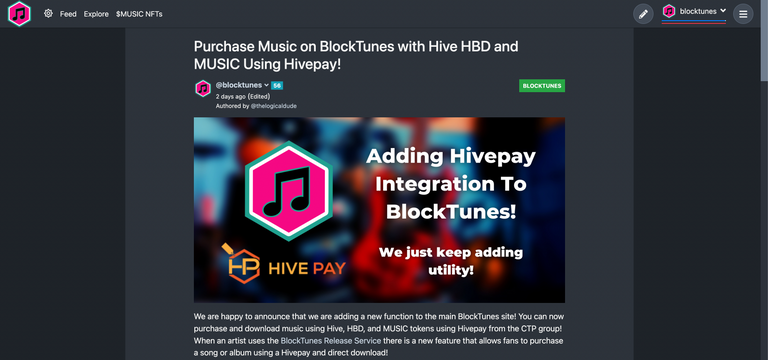 See post on BlockTunes
Next up, we are looking to build up our blog and radio content! Submission forms for both our upcoming music blog and BlockTunes radio are what is going to be on the agenda next week! Stay tuned for more updates!
Join The Independent Music Revolution
NFT MARKETPLACES | WEB 3 MUSIC SOCIAL MEDIA | WORLDWIDE MUSIC DISTRIBUTION
BUILT USING THE HIVE AND POLYGON BLOCKCHAINS
Support by voting for the @blocktunesdao Hive-Engine Witness with WORKERBEE stake at Tribaldex
Delegate Hive Power to either @blocktunes or the @blocktunesdao and earn 0.05 MUSIC tokens for every 1 Hive Power delegated, plus receive tiered automatic votes and a follow from the @blocktunes account!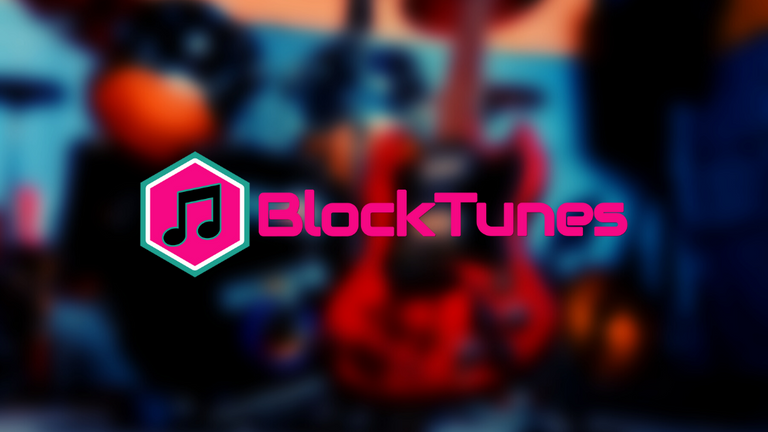 Posted using BlockTunes