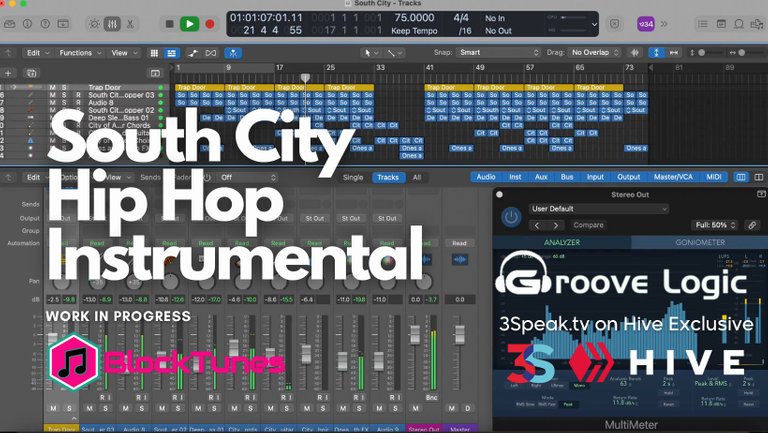 3speak video messed up in the encoding process so this links you to another version I uploaded to IPFS
---
Hello everyone! I am back in the studio and wanted to share a little hip hop beat I started last night. What you have here is after about 2 hours worth of arranging and base mixing. I am using Logic Pro X on the mac and I have been wanting to mess around with my own hip hop instrumentals for a while for my scratching videos and such and even to release on @blocktunes. This is still a work in progress.
This song is made up of the drummer tool and then a combination of different samples from the LPX library. The drummer tool on LPX is a really cool way to create drum beats, especially if you are not a drummer, lol. I set up a loop and then I start going through differnt beats and setups using the drummer tool until I come up with the sound I am looking for. Then I went through and found my bass line, melodic samples, and then effects. Once I find the sample combinations I am looking for in the vast LPX sample library, I then start the arrangement.
Once I find an arrangement I like I then go and start working on the mix a bit to get the levels I am looking for and then I can come back later on and do some fine tuning, then bounce out for mastering.
This is a way I can make quick tracks that I can use for backing tracks, and if they are good enough, put them out for release on the major channels as well as Blocktunes.net. We have a plan for a producer's corner kind of thing where we will have producer samples, DJ loops, and instrumental tracks like this!
Hope you enjoy!
Keep calm and groove on!
https://groovelogic.audio
https://blocktunes.net
https://hivelist.store/shop/groove-logic/


---
▶️ 3Speak