¡Bienvenidos a mi blog!💫
Estoy muy feliz de participar en esta hermosa iniciativa y de realizar con ella mi primera publicación en esta hermosa comunidad! 💖 Mujer, Humana ciertamente dos términos hermosos con los cuales me defino y con ellos voy a dar un viaje interno para reflexionar sobre el porque me representan.
Welcome to my blog ! 💫
I am very happy to participate in this beautiful initiative and to make with it my first publication in this beautiful community! 💖 Woman, Human certainly two beautiful terms with which I define myself and with them I will take an inner journey to reflect on why they represent me.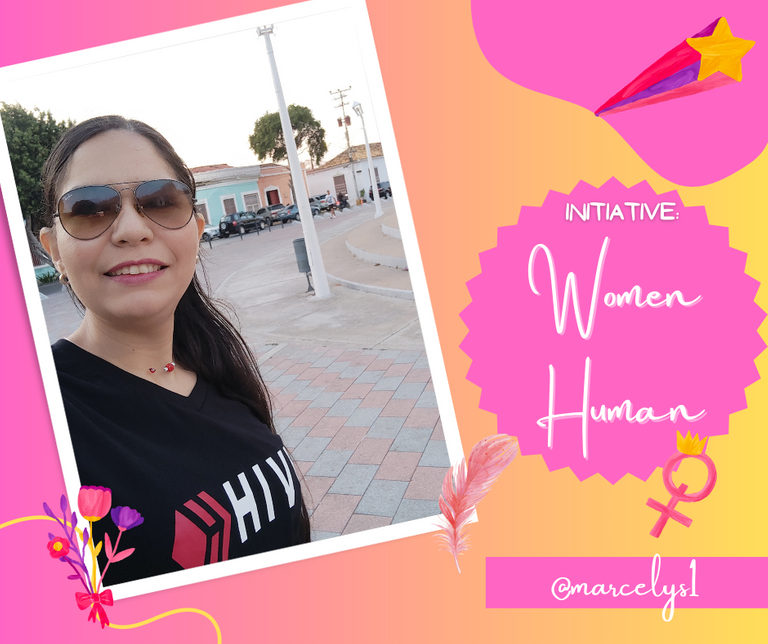 ---
Soy una mujer humana porque soy agradecida, agradezco a Dios por siempre estar presente en mi vida, por cada respiro, cada amanecer, cada sonrisa, cada experiencia, cada abrazo y cada beso, en fin por cada una de las bendiciones recibidas a lo largo de mi vida. 🙏
Soy una mujer humana porque siempre voy por la vida con humildad y empatía que son 2 herramientas mágicas, humildad para recordar de dónde vengo y a dónde quiero llegar, y empatía para hacer más llevadero el camino a transitar junto a todas las personas que me acompañen en el viaje.✨
Soy una mujer humana porque tengo sentimientos, suelo ser muy sensible ante ciertas cosas que en ocasiones pueden hacerme débil pero las recibo en mi vida solo con la intención de tomar su enseñanza y aprender con ellas a tomar fuerzas para volver a levantarme y a luchar por mis sueños. He tenido tantas experiencias buenas y malas a lo largo del tiempo, que me hicieron entender que todas tienen un propósito en nuestra vida y que debemos aprovecharlas con la mejor actitud posible, siempre buscando el lado positivo de las cosas, por muy nublado que este el panorama siempre el sol vuelve a brillar entre las nubes, por está razón soy una mujer humana y también soy una mujer optimista.💫
I am a human woman because I am grateful, I thank God for always being present in my life, for every breath, every sunrise, every smile, every experience, every hug and every kiss, in short for each of the blessings received throughout my life. 🙏
I am a human woman because I always go through life with humility and empathy which are 2 magical tools, humility to remember where I come from and where I want to go, and empathy to make the road more bearable to travel along with all the people who accompany me on the journey.✨
I am a human woman because I have feelings, I tend to be very sensitive to certain things that sometimes can make me weak but I receive them in my life only with the intention of taking their teaching and learn with them to take strength to get up again and fight for my dreams. I have had so many good and bad experiences over time, that made me understand that all have a purpose in our life and that we must take advantage of them with the best possible attitude, always looking for the positive side of things, no matter how cloudy the outlook is always the sun shines again between the clouds, for this reason I am a human woman and I am also an optimistic woman.💫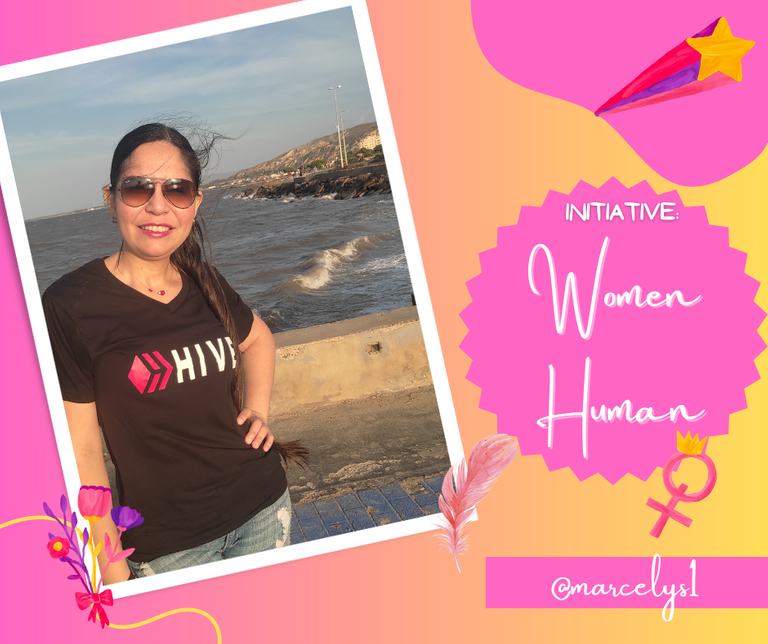 ---
Soy una mujer humana que vive el día a día al máximo, que trata de disfrutar de las pequeñas cosas, que ama a su familia más que a nada este mundo. Mi familia es mi mayor tesoro son el impulso que me hace cada día levantarme para luchar y dar lo mejor de mi, disfrutar de ellos, de sus logros, tristezas, alegrías, ocurrencias es algo que llena mi vida y que sin duda me hace ser mucho más humana, porque puedo sentir sus alegrías como mías y llorar sus tristezas sintiendo su mismo dolor.💖
Soy una mujer humana y real, con virtudes, imperfecciones, aciertos y desaciertos que me han hecho aprender a vivir la vida siempre adaptandome al cambio, siempre buscando la forma de superarme, de ser mi mejor versión y a la vez de ser una mejor persona! 💫
I am a human woman who lives day by day to the fullest, who tries to enjoy the little things, who loves her family more than anything else in this world. My family is my greatest treasure they are the impulse that makes me get up every day to fight and give the best of me, enjoying them, their achievements, sadness, joys, occurrences is something that fills my life and that undoubtedly makes me much more human, because I can feel their joys as my own and cry their sadness feeling their same pain.💖
I am a human and real woman, with virtues, imperfections, successes and failures that have made me learn to live life always adapting to change, always looking for ways to improve myself, to be my best version and at the same time to be a better person! 💫.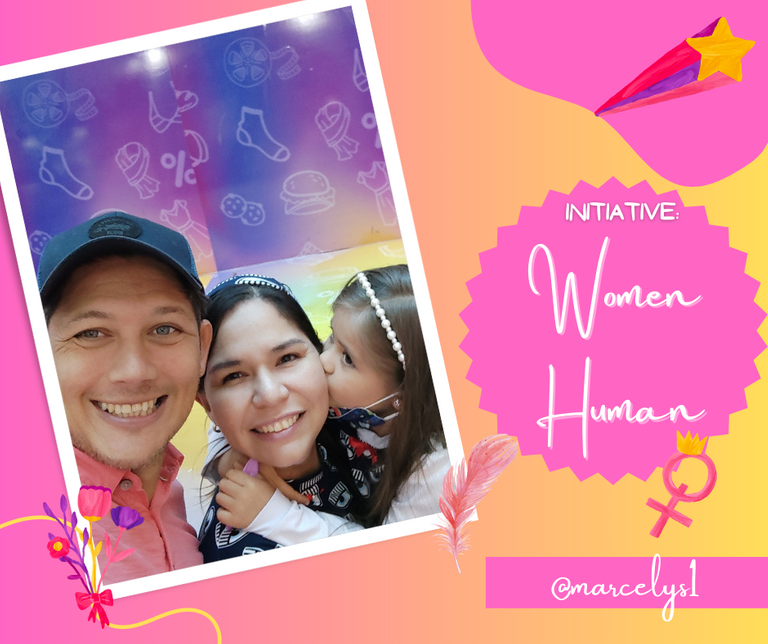 ---
Soy una mujer humana que lucha día a día por sus metas, que sueña con un futuro mejor, que despierta cada mañana con una sonrisa y con la convicción de que hoy será un buen día😊, soy una mujer que ríe, que llora y que se levanta cada vez que cae con mucha más fuerza para seguir adelante a alcanzar sus objetivos, soy una mujer fuerte y estoy orgullosa de ser mujer. 💖
I am a human woman who fights day by day for her goals, who dreams of a better future, who wakes up every morning with a smile and with the conviction that today will be a good day😊, I am a woman who laughs, who cries and who gets up every time she falls with much more strength to move forward to achieve her goals, I am a strong woman and I am proud to be a woman. 💖
---
Está fue mi participación en esta maravillosa iniciativa que me recordó porque soy Una Mujer Humana💖, aprovecho la oportunidad para invitar a mis amigas @marivic10 y @meivys a compartir con nosotros.✨ ¡Gracias por leerme y por su apoyo! 💫 ¡Nos vemos pronto! 😃👍
This was my participation in this wonderful initiative that reminded me why I am A Human Woman💖, I take the opportunity to invite my friends @marivic10 and @meivys to share with us.✨ Thank you for reading me and for your support! 💫 See you soon! 😃👍
---

Nota: Todas las imágenes son creadas por mi con la App Canva. Traductor utilizado: DeepL/ All images are created by me with the Canva App. Translator used: DeepL